1
What CancertrackTM Can Reveal
✓Indication of cancerous activity in the body.
✓Indication of molecular dynamics in real-time.
✓Indication of therapy success.
✓Molecular sign of drug resistance.
✓Indication of targetable molecular alteration.
2
For Whom
✓Every person who has been diagnosed with cancer, as a supplement to conventional biopsy for a more robust molecular diagnosis and baseline measurement of cell-free tumor DNA before initiation of therapy.
✓Every patient who is under treatment for cancer.
✓Every patient who is in remission / a cancer survivor and needs monitoring.
✓Every patient in whom the cancer is not responding satisfactorily to "Standard of Care" therapy.
3
Why
Radiological imaging is not always able to detect changes in the tumor at the molecular level or early signs of recurrence. Additionally, there are inherent risks associated with radiological imaging.
4
How
cfDNA from the patient's peripheral blood is analysed for qualitative and quantitative changes in targeted genes.
5
Sample Type
15 / 20 ml peripheral blood (5-6 hours fasting) as per protocol.
6
Turnaround Time
Report will be available within 10-12 days.
CancertrackTM is a non-invasive blood based investigation that detects cancer derived biomarkers with ultra-high precision, specificity and reliability. CancertrackTM can be used to monitor the disease /recurrence or changes in the tumor characteristics, as often as necessary, without the cost, risk and consequences of radiation from scans, hospitalisation, anaesthesia or painful surgical biopsies.
Features of CancertrackTM
✓Multi-coordinate and multidimensional probes to track down DNA released by cancer cells in the patient's blood.
✓Unique, unprecedented capability to detect cancerous activity.
✓Enables real-time rapid response to the dynamic molecular profile of a patient's cancer.
✓Safe, sure, simple and cost-effective.
✓Non-invasive blood test.
✓Not dependent on availability of tissue.
✓Tests all active disease sites.
✓Limit of detection is 0.1% Mutant Allele Frequency.
✓Far more powerful than conventional biopsy.
✓Extensive coverage of NCCN recommended biomarkers.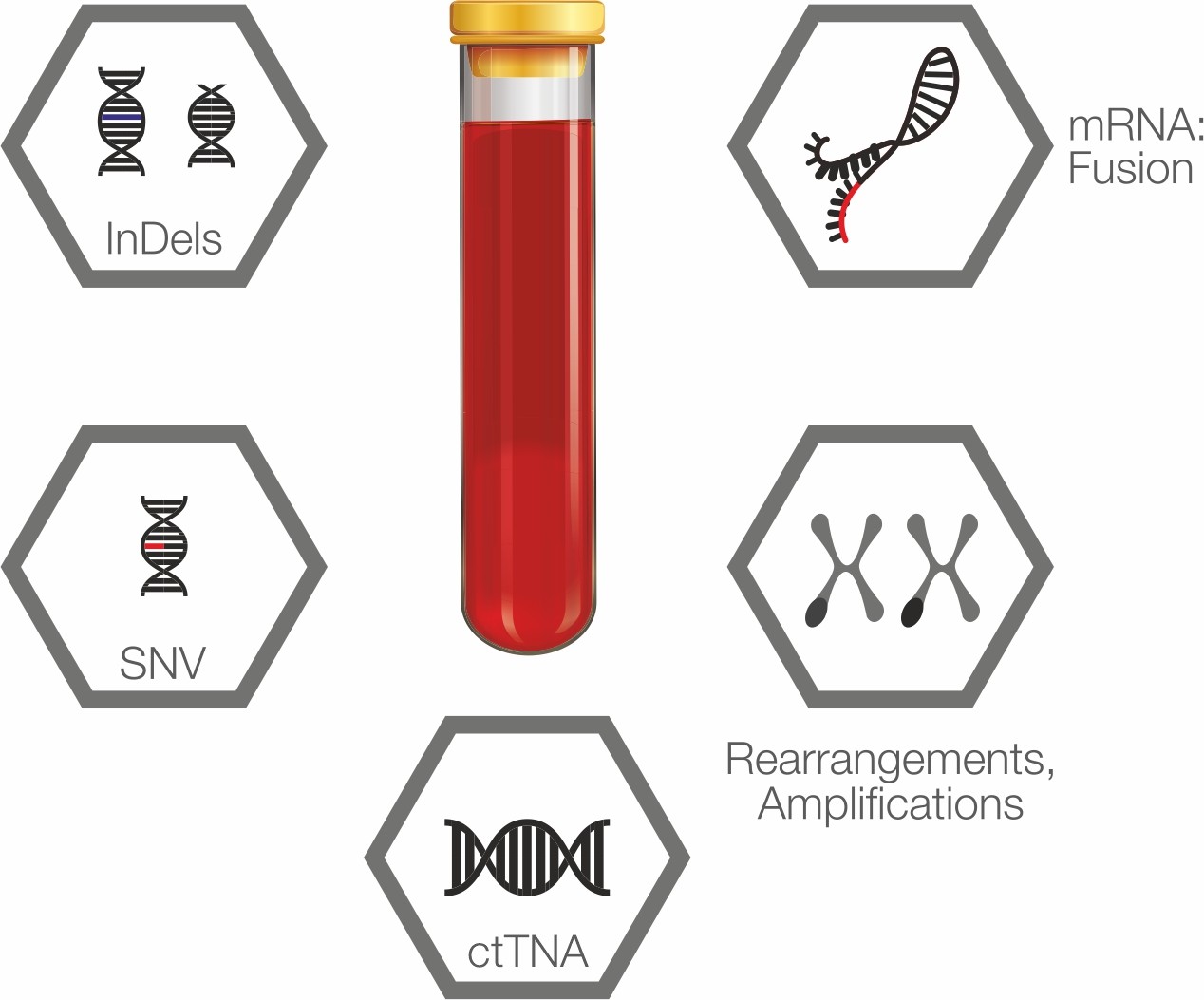 FREQUENTLY ASKED QUESTIONS
How is CancertrackTM validated?
CancertrackTM has been validated clinically on several hundred samples and the process validation meets and exceeds the claimed sensitivity and specificity. Our laboratory is accredited by ISO 9001:2015, ISO 15189:2012 and ISO 27001:2013, besides its compliance to "The College of American Pathologists" and CLIA guidelines. All CancertrackTM reports are reviewed by our experienced and qualified Molecular Tumor Board comprising of experts in the field. Our counsellors and experts are available for ongoing support.
Why is early detection of molecular dynamics of cancer critical?
How frequently is it necessary to do the test?
What are the limitations of CancertrackTM?
DOWNLOAD BROCHURE + SAMPLE REPORT
Please contact us for more details.